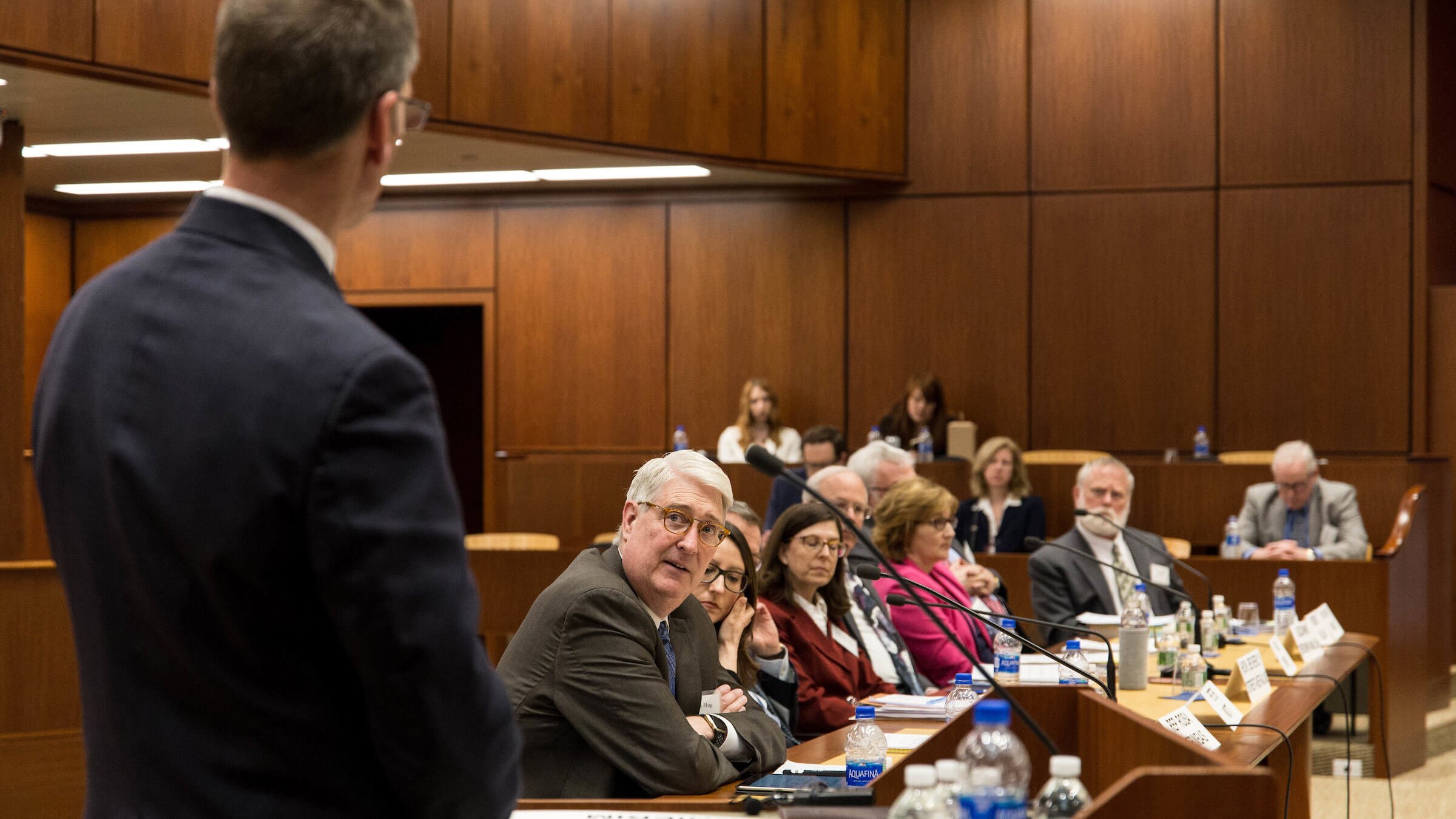 A vital resource for the probate law community
Probate Law
The Quinnipiac Probate Law Journal is a wholly student-run journal published quarterly by the Quinnipiac University School of Law. First published in 1986 as the Connecticut Probate Law Journal, the Journal was at that time the official reporter of probate decisions in the State of Connecticut. The Journal has also benefited from the longstanding cooperation of the National College of Probate Judges and the Connecticut Probate Assembly.
The Journal provides the legal community with a source of information and scholarship on the field of probate law. The distribution of a decedent's estate can be a contentious and lengthy process that is subject to nuanced state laws. Our Journal examines the most common — and uncommon — subjects of this process, from issues encountered when probating a last will and testament, to the creative and sometimes questionable definitions of "real" and "personal" property.
We welcome perspectives from all experienced members of the probate law community. Each issue includes student notes and case comments, opinions from probate courts in Connecticut and other jurisdictions across the country, and scholarly articles by judges or practitioners.
Current Issue
Volume 32, Issue 2, 2019
Opinions of the Connecticut Probate Court
In the Matter of Janet M. Brownell
In Re: William W. Bassford
In Re: The Estate of Christopher Byron, Deceased
Note
The Light at the End of the Tunnel: Why the Timing is Right for Connecticut to Consider Tortious Interference with Inheritance as a Valid Cause of Action
Board of Editors, 2022-23
Editor-in-Chief
Executive Managing Editor
Supervising Editor
Lead Publications Editors
Publications Editors
Karina Barra-Arrendondo
Nathanael Scaniffe
Business & Alumni Affairs Editor
Associate Editors
Alan Aboulafia
Jake Keanna
Emily Khirisy
Anthony Martone
Marina Siegel
Staff Members
Julianne S. Brown
Matthew V. Chai
Mark D'Augelli, Jr.
Brianna Rae DellaValle
Juliana R. Greco
Marianna Kalander
Marta Konopka-Kourelis
Kathleen A. Quinn
Maggie A. Richardson
Robert L. Tedeschi, Jr.
Nicholas A. Verardi
Abigail Walsh
Faculty Advisors
Jeffery A. Cooper
Kathy A. Kuhar
Leonard J. Long
Back Issues
Back issues can also be found in electronic format for all your research needs through a subscription to HeinOnline.
To purchase back copies through HeinOnline please contact:
William S. Hein & Co., Inc.
1285 Main Street
Buffalo, NY 14209‑1987.
Orders may also be placed by calling Hein at 800-828-7571, via fax at 716-883-8100, or email to customerservice@wshein.com.
Subscriptions
To subscribe to the Quinnipiac Probate Law Journal please contact us at projournal@qu.edu
For any shipping or billing inquiries, please contact us at projournal@qu.edu or by phone at 203-582-3223.
Submissions
The Quinnipiac Probate Law Journal prides itself in paying close attention to the needs of its authors, providing a thorough and personalized editing experience. Our editing process includes three tiers of editing, all while keeping in mind the tone and voice of the author's submission. We strive to make all submissions the best they can be before print.
We are currently accepting submissions for the upcoming volume. We do not, however, accept submissions from currently enrolled law students in an effort to publish scholarship from our own members. The Quinnipiac Probate Law Journal accepts submissions via regular mail, email, direct submission, ExpressO and Scholastica. Kindly include an abstract, curriculum vitae and cover letter with any submissions.
Online
Probate Law Journal online submission form coming soon
Mail
Quinnipiac Probate Law Journal
Quinnipiac University School of Law, LW-ORG
275 Mount Carmel Avenue
Hamden, CT 06518-1908
Email
Please email attachments to projournal@qu.edu.
Scholastica
Contact
Quinnipiac Probate Law Journal
Quinnipiac University School of Law, LW-ORG
275 Mount Carmel Avenue
Hamden, CT 06518-1908
Phone: 203-582-3223
projournal@qu.edu